Projects
The Lake Union Rotary Club participates in both local and global projects. Our local projects address issues related to homelessness, youth and education. Our global projects address issues related to clean water, sanitation and personal hygiene training. See below for more details about some of our current projects.
Grants
The Lake Union Rotary Club awards grants to nonprofit organizations that meet our grant criteria and are approved by our board. We support international and domestic US community projects that focus on:
> Public health, specifically addressing clean water, hygiene and sanitation
> At-risk youth
> Homelessness
> Job creation
We do not fund grants that are:
> For unspecified amounts, tuition, general operating costs including salaries, funding beyond one year, or grants which involve a conflict of interest.
> Inconsistent with Rotary principles and Seatle City ordinance, where the project, whether through its principal agents or partners, discriminates on the basis of race, color, sex, age, disability or national origin, gender identity, marital status, political ideology, religion, sexual orientation, or military status or veteran status. (Unless such discrimination involves a lawful means of targeting specific beneficiaries.) To avoid any doubt on this issue, if any organization implementing the grant discriminates in employment on the basis of religion, this will generally disqualify the grant.
If your organization meets the above criteria, you are invited to apply for a grant. Please download the PDF file below, complete it offline, and email it to the Grant Committee Co-Chairs listed at the top of the application:
Lake Union Rotary Grant Application 2022-23 Final
Lake Union Rotary Foundation
The Lake Union Rotary Foundation (LURF) is a 501(c)(3) nonprofit organization (Tax ID: 90-0847480) that was founded in 2012 with the goal of supporting the charitable projects of the Lake Union Rotary Club and qualifying for matching grant funding from Rotary International.
Donations to LURF are 100% tax deductible and will be used to fund our current projects. Since LURF is run by members of the Lake Union Rotary Club, there is zero overhead and all funds are spent directly on service projects locally and globally. In most cases we are able to double or even triple each donation through the power of matching grants from Rotary International.
To make a donation, please use the yellow "Donate" button below. If you want your gift used for a specific purpose, please indicate that purpose in the comments field. For any questions related to donations, please contact lakeunionrotaryfoundation@gmail.com.
Donations can be made online securely via PayPal. All credit cards are accepted.
Donate by Mail
Make checks payable to:
Lake Union Rotary Foundation
117 E. Louisa St, #548
Seattle, WA 98102
LURF has an independent board of directors made up of members of the Lake Union Rotary Club. We have passed multiple Rotary grant audits. Our board officers are as follows:
President: Larry Logue
Secretary: John Ramsay
Treasurer: Eugene Lipitz
IRS Form 990 Tax Returns:
More Form 990 documents forthcoming shortly.
Project Details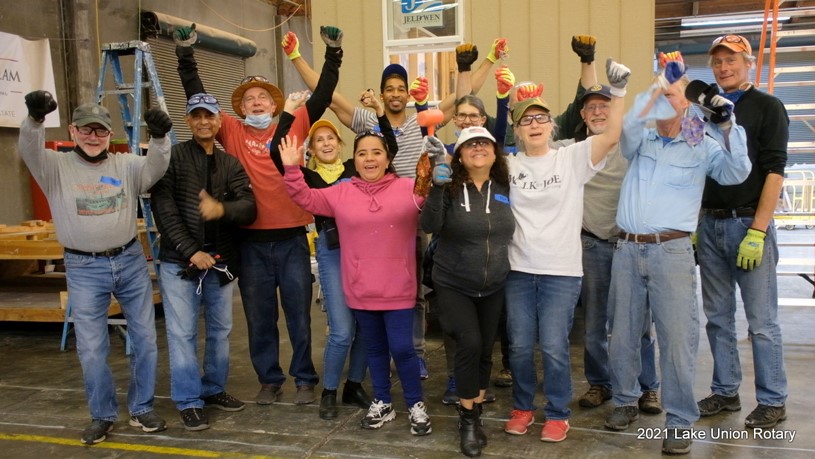 Building Tiny Homes for Our Unhoused Neighbors
To show our dedication to helping resolve Seattle's homelessness crisis, the Lake Union Rotary Club has helped build several Tiny Homes in the last few years – one with the help of four current and past Rotary District Governors. Additionally, our Club recently secured a District Matching Grant to purchase building materials for more Tiny Homes. Individually, Rotarians in our Club join with others from throughout our District on the Third Sunday of each month to build more Tiny Homes.  We're committed to helping end homelessness in King County!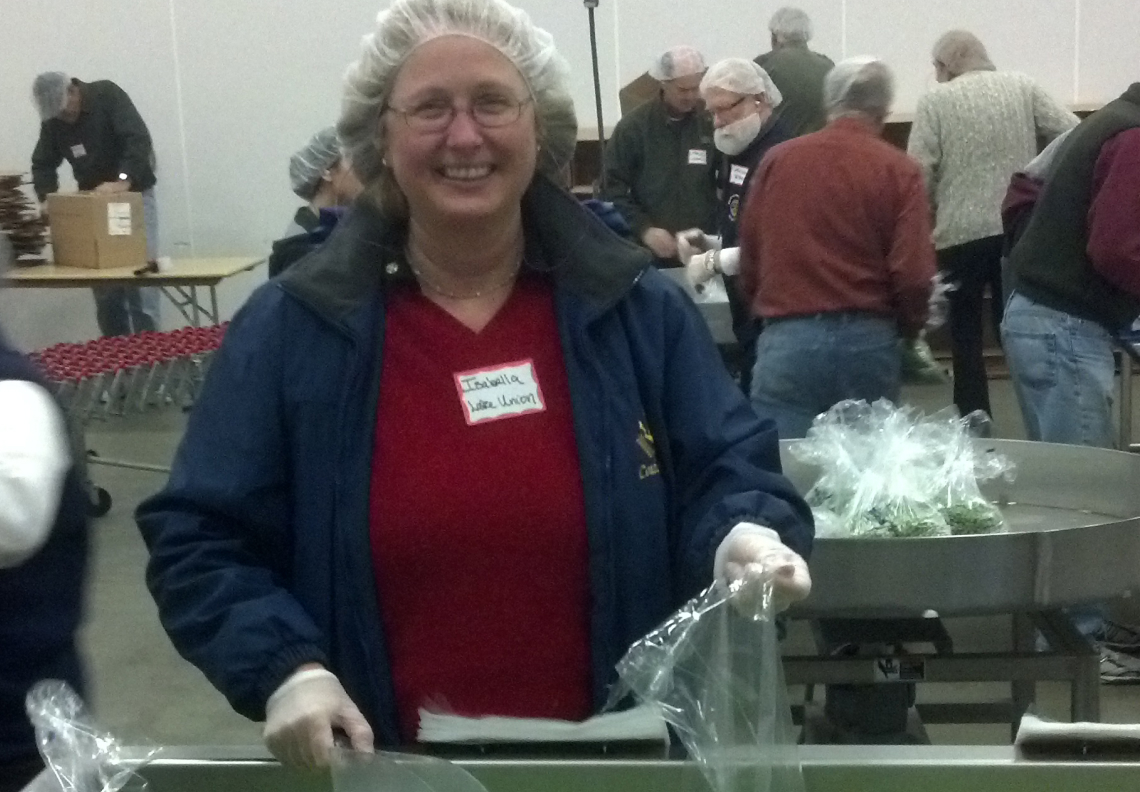 Harvest Against Hunger Work Parties
Harvest Against Hunger – a program of Rotary District 5030 – connects farmers, truckers, volunteers and food banks for hunger relief. Food banks across Washington are serving millions. More than 4,000,000 pounds of produce has been recovered from farmers with surplus, volunteer trucking companies use available space on backhauls to deliver the produce to our warehouse where Lake Union Rotary Club members and other Rotarians volunteer to pack the produce in family size bags for distribution to more than 200 local food banks.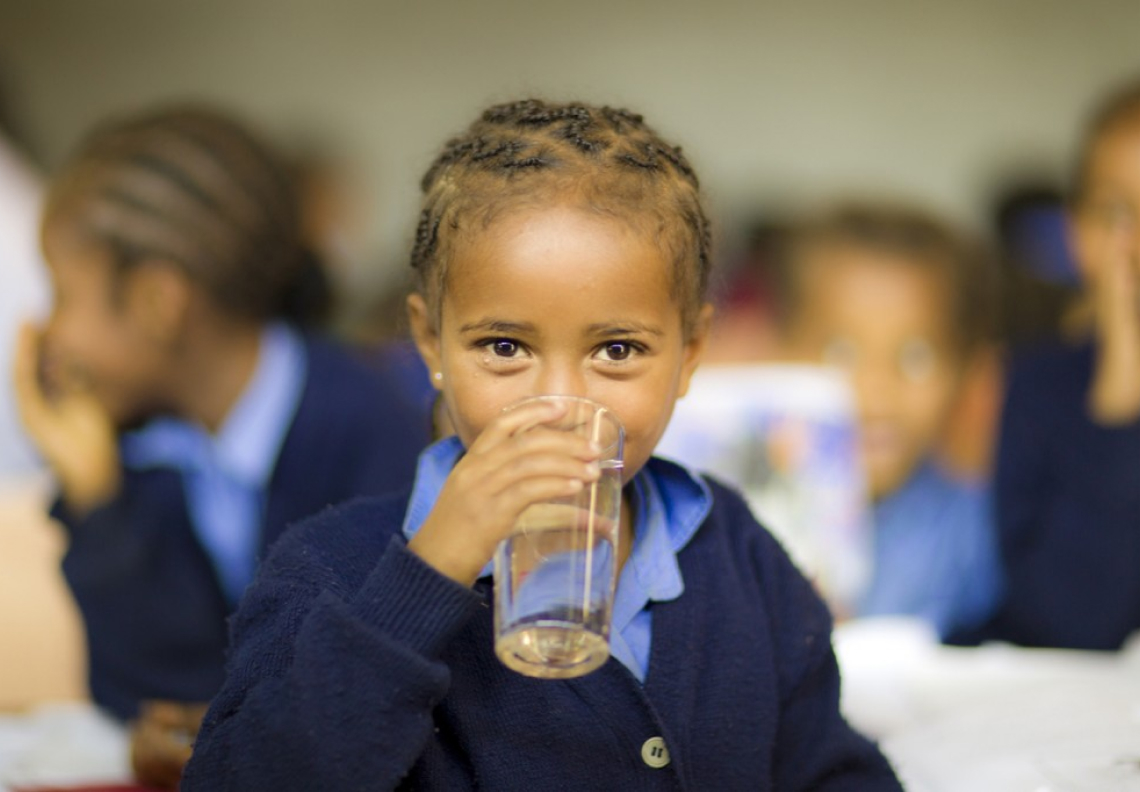 Safe Water, Clean Hands For Ethiopian Kids
Children in Addis Ababa, Ethiopia are in tremendous need of reliably safe water. The city's water contamination is among the worst in the world. For children living in the city, especially those attending public schools or sleeping on the street, access to safe water is a constant challenge. Providing safe drinking water for these children living in developing-world urban conditions is a priority for Rotarians around the world. The Lake Union Rotary Club has partnered with Splash to install water filtration systems in five schools in Kathmandu, Nepal. The success of the Nepal program has been incredible.